PROUD PARADERS 2000 Photos by MICHAEL SYPNIEWSKI / Staff Photographer


Members of Toms River High School South's marching band perform in Seaside Heights during a Columbus Day Parade. Amanda Rose (right), 8, Browns Mills, waves the Italian flag.

Borough holds Columbus Day Parade
By COLLLEEN PLATT
Staff Writer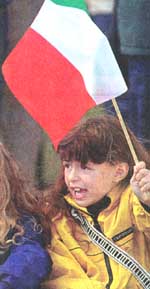 Three-year-old Robert Stewart smiled and pointed in the direction of the oncoming band.

"There," he said, motioning to his mother, Angel, to watch the band.

"The drums are his favorite," Mrs. Stewart, Toms River, said, as she followed her aspiring drummer's gaze in the direction of the Toms River High School South marching band, which was marching proudly to the drum sections' cadence.

Toms River South's band was one of dozens that participated in the 9th annual Columbus Day Parade in Seaside Heights yesterday. The parade was the culmination of a weekend of festivities commemorating Italian heritage at the shore.

Michael Blandina, the parade and festival chairman, estimated the crowds reached about 50,000 people yesterday.

Blandina said months of planning go into the annual weekend, and each year the event grows a little more. This year's event featured 19 bands from throughout the state, and six floats representing area business and clubs.

A dance and performance troupe from Italy, "Gruppo Polifonico Del Balzo," made a guest appearance at the parade. Blandina said he and other parade committee members enjoy bringing the different groups from Italy to the event every year, because it adds an extra dimension to the festivities.

Members of the Italian American Club in Ocean County marched along the parade route, but they weren't the only ones who wore the traditional colors of Italy.

Several of the parade participants donned the traditional green, white and red colors affiliated with the Repubblica Italiana, including Louisa Kostika, treasurer of the Ocean County Columbus Day Parade committee, who wore a traditional red skirt and white patterned shirt to celebrate the day.

The festival featured food, vendors, crafters, an antique car show and other events throughout the weekend.
---