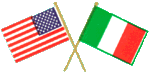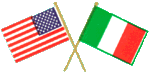 Ocean County
Columbus Day Parade
and Italian Festival

**FOR IMMEDIATE RELEASE**
Contact: Michael A. Blandina - (732) 477-6507
Seaside Heights, NJ -- The Ocean County Columbus Day Parade Committee is accepting nominations for Grand Marshal of this year's parade. The Parade will be held on Sunday, October 7, 2001 and will commence on the Boulevard in Seaside Heights at 1:00 PM.

"Grand Marshal nominees should be civic-minded individuals who are in good standing in the community and have a strong moral character," said Parade Chairman Michael A. Blandina.

"The Grand Marshals that have led the Parade in the past have been more than worthy individuals who have helped our Parade and Italian Festival gain a reputation as the best in the State," stated Tony Pipoli, Chairman of the Grand Marshal Search Committee. "We are confident that this year's selection will represent the community, the Parade and the Parade Committee in an admirable manner." Past Grand Marshals have included former Ocean County Prosecutor Daniel Carluccio, Restaurateur Anthony Baiamonte Jr., Commercial Developer Donato "Dan" D'Onofrio, Lucy Appice, President of the Toms River-Ocean County Chamber of Commerce, the owner of the Mulberry Street Italian Food Center Michael Colasurdo and last year's Grand Marshal Robert LaTorre.

The deadline for nominations for Grand Marshal is April 11. Nominations should be submitted to:

Ocean County Columbus Day Parade Committee
c/o Michael A. Blandina
249 Hawaii Drive
Brick, NJ 08723

"Each nomination will be thoroughly reviewed by the committee," stated Blandina. "The Grand Marshal selection will be announced the week of April 16, 2001. The nominee who is chosen will also be honored at our Annual Dinner Dance which will be held on June 15."

Blandina adds, "Anyone interested in assisting or joining the Ocean County Columbus Day Parade Committee can contact me at (732) 477-6507."
---